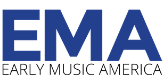 Early Music Now's Latin Fiesta
Rumbarroco's rousing Baroque concert By Rick Walters
"The lively Boston-based ensemble Rumbarroco gave a rousing concert Saturday evening at the Helene Zelazo Center for the Performing Arts at UW-Milwaukee, part of the Early Music Now series. Titled "Fiesta: A Hispanic Heritage Celebration," the program featured music in various styles from Spain and Latin America and the fusion, aesthetic mutations, and influences as it passed from culture to culture.
Seven players on Baroque instruments (viola da gamba, violin, early guitars, cornetto, theorbo, cuatro, bass, and percussion) were joined by two singers in music that percolated with physicality and infectious rhythms throughout. Often improvising over chord progressions, the concert was a refreshing hybrid of Latin jazz and Baroque music, certainly not something I'd ever imagined. Fandango con Joropo, which may be by Antonio Soler, was mixed with a Venezuelan folksong in an arrangement by the ensemble's director, Laury Gutiérrez, and it turned into a knock-out jazz all-stars improvisation fest. One fantastic solo after another added to the giddy momentum of it.
Other selections came from 16th-to-18th-century Mexico, Venezuela, Guatemala, and diverse Spanish sources. The exuberant joy of the players was beyond charming. Everyone in the audience was swept up in it and spontaneously cheered at the end."
Journal Sentinel – Tap
Rumbarroco blends Latin and historic sounds in Early Music Now performance.
By Elaine Schmidt, Special to the Journal Sentinel. Oct. 18, 2015
"Bobbing heads, tapping feet, infectious rhythms, and spicy, improvised solos are now the purview of early music performances, too.
The Boston-based early music/Latin ensemble Rumbarroco — think rumba plus Baroque — played at the University of Wisconsin-Milwaukee Zelazo Center Saturday courtesy of Early Music Now. The nine-member ensemble combined the expected early music sounds of period instruments and vocals with the seemingly out-of-context sounds of amplified bass and fiery percussion lines.
If one were to draw a line separating the sonic world of a contemporary Latin street band from that of a historically trained early music ensemble, Rumbarroco would be the group of musicians dancing merrily back and forth over the line, choosing now and then to balance on the line itself. Their unlikely fusion of sounds and styles creates a captivating genre.
The group's sound varied widely from tune to tune Saturday, which was more than just the result of interspersing instrumental numbers with vocal selections. The period instrumentalists switched instruments frequently, with their blended timbre dominated at times by the cornetto, the violin, a trio of early guitars, and the mesmerizing sound of strummed harmonics on a small guitar.
Percussion sounds blended the music of Spain, South America, and Africa, ranging from gently rustling maracas to driving tattoos on the cajon or congas. Bass lines of simple folk patterns gave way to complex jazz patterns and simmering improvisations.
Two female vocalists provided the pure, often sans vibrato sounds of the Baroque, managing ballads, plaintive sounds, and a gentle, faint whisper with equal ease. They went to the back of the hall at one point, moving incrementally closer to the stage with each verse of their song.
The group shifted styles as quickly as they changed instruments, hopping across centuries and continents to find fascinating then-and-now commonalities and contrasts.
The concert contained frequent, and sometimes lengthy, breaks for tuning the string instruments, which were not enjoying the temperature and humidity changes imposed by travel.
Laury Gutiérrez, the group's director and member of the instrumental ensemble on viola da gamba and early guitars, took the tuning breaks to explain the group's philosophy of fusing styles and eras by focusing on the commonality of harmonic progression rather than the separation of centuries.
Rumbarroco answered a standing ovation with a lively encore."
South Florida Classical Review
Rumbarroco bridges early music and Latin rhythms delightfully | Sun Dec 14, 2014
"Rumbarroco put on a stellar show for a packed hall Saturday night at St. Martha's Church in Miami Shores. An ensemble of world-class musicians, the group focuses on an intercultural fusion between musical traditions, including early European music of the Renaissance and Baroque and its confluence with the music of the Americas. The event opened Saint Martha's 2014-15 concert series, operated in conjunction with Yamaha Pianos.
Laury Gutiérrez, guitarist/gamba player and the ensemble's founding director, emceed the evening's proceedings and proved a warmly engaging host, introducing the works. At the same time, the musicians tuned their delicate period instruments. The program had a clear holiday flavor, with many works dealing with Christmas and the Nativity.
Right out of the gate, Kera Washington's virtuosity on her various hand-percussion instruments drew immediate attention. Her initial solo in the opening 15th-century Propiñon de Melyor (con Son Cubano) by Anonymous had the audience clapping along to the syncopated dance rhythms. The full ensemble coalesced around Tal Shalom-Kobi's bass ostinatos in this selection, with Catherine Stein performing melodies on a period trumpet. (She switched to Baroque recorders and Shawms for most other selections.)
Another high point of the concert was the nuanced and technically deft guitar and cuatro playing of Carlos Sulbarán. In the Venezuelan Joropo, which the ensemble paired with Pedro de Escobar's 15th-century Virgen bendita sin par, Sulbarán's solo at the climax of the lively dance piece was a glistening, wandering improvisation that nevertheless felt that it arrived logically where it needed to at precisely the right time.
An exciting contrast created by the combination of styles was the juxtaposition of vocal performance style. The singing was pure-toned, restrained, and with minimal vibrato when performing the early European music, but quickly turned colorful and exuberant in interpreting the Latin works. This dramatic shift of technique was adroitly handled by coloratura soprano Kimberly Ayers, countertenor Gerrod Pagenkopf, and baritone Brad Fugate, joined at times by Stein in a quartet texture.
Washington's stunning percussion technique was also apparent in her solos in La Girigonça (Baile Cantado) and Plena, the latter repeated in the second encore demanded of Rumbarroco by an enthusiastic audience. The first encore was a reprise of Senhora del mundo, which included extended and playfully competitive maraca solos by Alejandro Chávez and Sulbarán, each displaying impressive prowess on their instruments."
Theater Jones: North Texas Performing Arts News Reviews
Live Fusion. The Orchestra of New Spain opens its season with a festive mix of eras and styles featuring Boston-based Rumbarroco. | by J. Robin Coffelt, published Friday, October 11, 2013
"Dallas — Orchestra of New Spain's season opener on Thursday night, called Latino Barroco, gave the impression that musicians from four different centuries and at least as many cultures had gotten together for an improbable jam session. At one point, sharing the stage was a viola da gamba (played guitar-style, no less), a baroque cello, a harpsichord, and an electric bass, as well as a tambourine, a cajón (percussion box), and some Venezuelan-style guitars. This is not, to be sure, an exhaustive list. Amazingly, this assortment worked very well.
The program itself, though billed as a music of the Latin baroque, spanned a much larger time frame, from the Renaissance of the 15th century to the Modernist period of the 20th. Much of the reason for the unusual instrumentation and programming is that a few core
orchestra members were joined onstage by Rumbarroco, a Boston-based Latin-Baroque fusion ensemble. They created a vibe that made a baroque cello and an electric bass sound like not strange bedfellows but harmonious ones.
Rumbarroco member Laury Gutiérrez provided helpful remarks explaining the pieces and, at
one point, the instruments. Although excessive chatter from the stage is becoming a problematic trend at concerts, in this case, it was most welcome. Even frequent concertgoers could find themselves out of their element here.
Indeed, this was not quite a traditional classical concert. Gutiérrez encouraged the audience to dance in the aisles. However, no one accepted the offer, and there was a brief audience participation number at the end of the program, with audience members providing a rhythmic
base (more or less) for the musicians' melody. The program featured few, if any, well-known composers but did give tastes of, among other delicacies: Andalusian and Sephardic tunes, Spanish and South American dances from four centuries, indigenous South American music, and South American music incorporating African influences.
Each musician's skill level was remarkably high, a fact highlighted when most musicians received solo opportunities. The Orchestra of New Spain and Rumbarroco did something distinct and novel Thursday night, and they did it well."