Saturday, November 4 at 4 PM
St. John's Church
1 Roanoke Ave., Jamaica Plain, MA
Sunday, November 5 at 4 PM
Church of the Covenant
67 Newbury St., Boston, MA
Thursday, April 11 at 7:30
Private performance
Concord, MA
Friday, April 12 at 7 PM
Church of the Covenant
67 Newbury St., Boston, MA
Saturday, April 13 at 4 PM
St. John's Episcopal Church
1 Roanoke Ave., Jamaica Plain, MA
Sunday, April 14 at 4 PM
St. John's Episcopal Church
705 Hale St., Beverly, MA
What are people saying about us:
Boston Early Music Festival
To unite diverse communities by highlighting the fusion and confluence of the cultures of Europe, Africa, and the Americas through musical performances and educational outreach.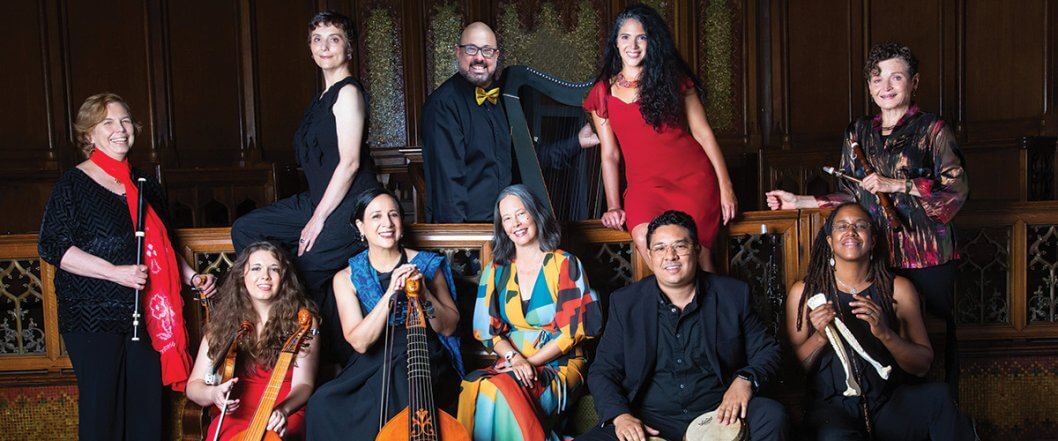 RUMBARROCO's Mission We show the European influence on Afro-American and indigenous music in Latin America, as well as how the fusion of those types of music with European classical music produced new musical genres. We recreate, preserve, and popularize the diverse, multicultural aspects of the rhythmic patterns passed down from the Middle Ages to today. And for this purpose, we have formed a Latin-Baroque Fusion ensemble of musicians using period, folk, and contemporary popular instruments. Rumbarroco also aims to promote awareness and enjoyment of the musical and cultural similarities and distinctions between the Orient and Occident, and among Jews, Christians, and Muslims, as experienced through Latin-American music. We seek to unite today's diverse communities through the powerful transformative passion of the music we play. Finally, we employ music as a tool for cultural integration, especially for empowering youth in their personal growth.

Mail: PO Box 15309, Boston, MA, 02215
DONATIONS:
Please donate today and help us continue to carry out our mission to increase diversity in music!