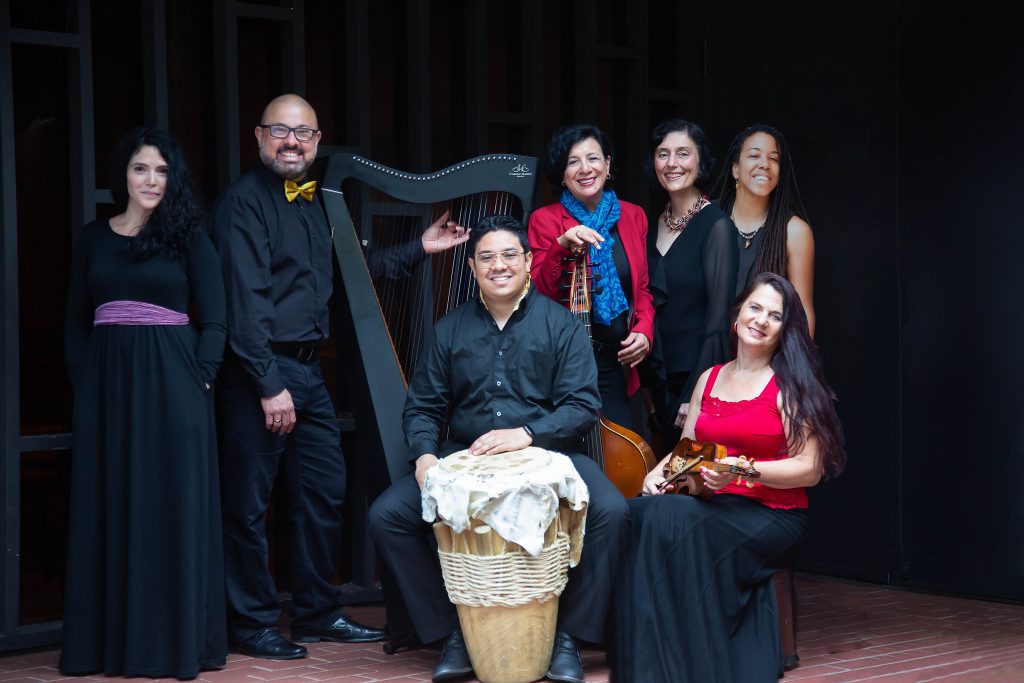 Performers
Adriana Ruiz & Daniela Tosic, voice
Lisa Brooke, Baroque violin
Eduardo Betancourt, Venezuelan harp
Kera Washington & Ricardo Matute, percussion
Laury Gutiérrez, viola da gamba & Renaissance guitar
AfroBaroque Music & Latin America
Friday, October 22 at 7PM
Church of the Covenant
67 Newbury St, Boston, MA 02116-3010
In celebration of Hispanic Heritage, we will illustrate the intersection of early European music with the aural African and Amerindian traditions and the resulting link with current Latin-American genres, the African diaspora in Latin America and its lasting musical legacy in Ibero-American music, and the fusion of art music or "learned" music with folk and popular forms.
Using musical texts from the 17th and 18th century such us the Trujillo Codex and guitar treatises by Santiago de Murcia and Gaspar Sanz, we present the European, Amerindian, and African traditions that have survived in scores, recreating them through current performance practices of Afro-Latin music traditions in Bolivia, Peru, Mexico, Puerto Rico, and Venezuela. We tap into our collective musical memory to blend past and present, connecting current Afro-Latin dances such as the Hatajo de Negritos, Joropo, Saya, and Plena with African-influenced dances such as the Cumbe, early Zarabanda, and Zarambeque in performances informed by both history and folklore. 
Also in the program: Early vocal music from Spain and Mexico, with texts from the Iberian Cancioneros that depict black women in endearing terms and connected Latin American dances and instrumental improvisations.
For more information: Rumbarroco@ladm.org